Fit Pulsonix into your company procedures
Integrate Pulsonix within your Product Lifecycle Management (PLM) processes and corporate requirements
Product Lifecycle Management
Product Lifecycle Management or PLM usually refers to a product that has the ability to manage the design flow. This might be a product that controls tools and data for electronics design and manufacturing. It might also be used in the Pulsonix design environment, mechanical CAD, a costing or manufacturing database, drawing issue control, materials specification or quality control for example.
Tight Integration
The PLM product interface (or a middle tier application between the PLM system and the various individual tools) allows access to documents and other design data in a controlled manner, so that all actions fit with the design flow defined by the PLM system.
Product 'Hooks'
Each process product requires its own PLM interface to enable the PLM tool 'hooks' to access information within it. Pulsonix has hooks built in which the PLM product can access using the Pulsonix PLM interface. These are programming hooks that are specially written for individual PLM products.
Full Audit Control
A PLM driven system ensures a full audit trail is available from every option passed through it. This means that at every stage, all processes can be monitored and a record of the access and command used will be available for inspection.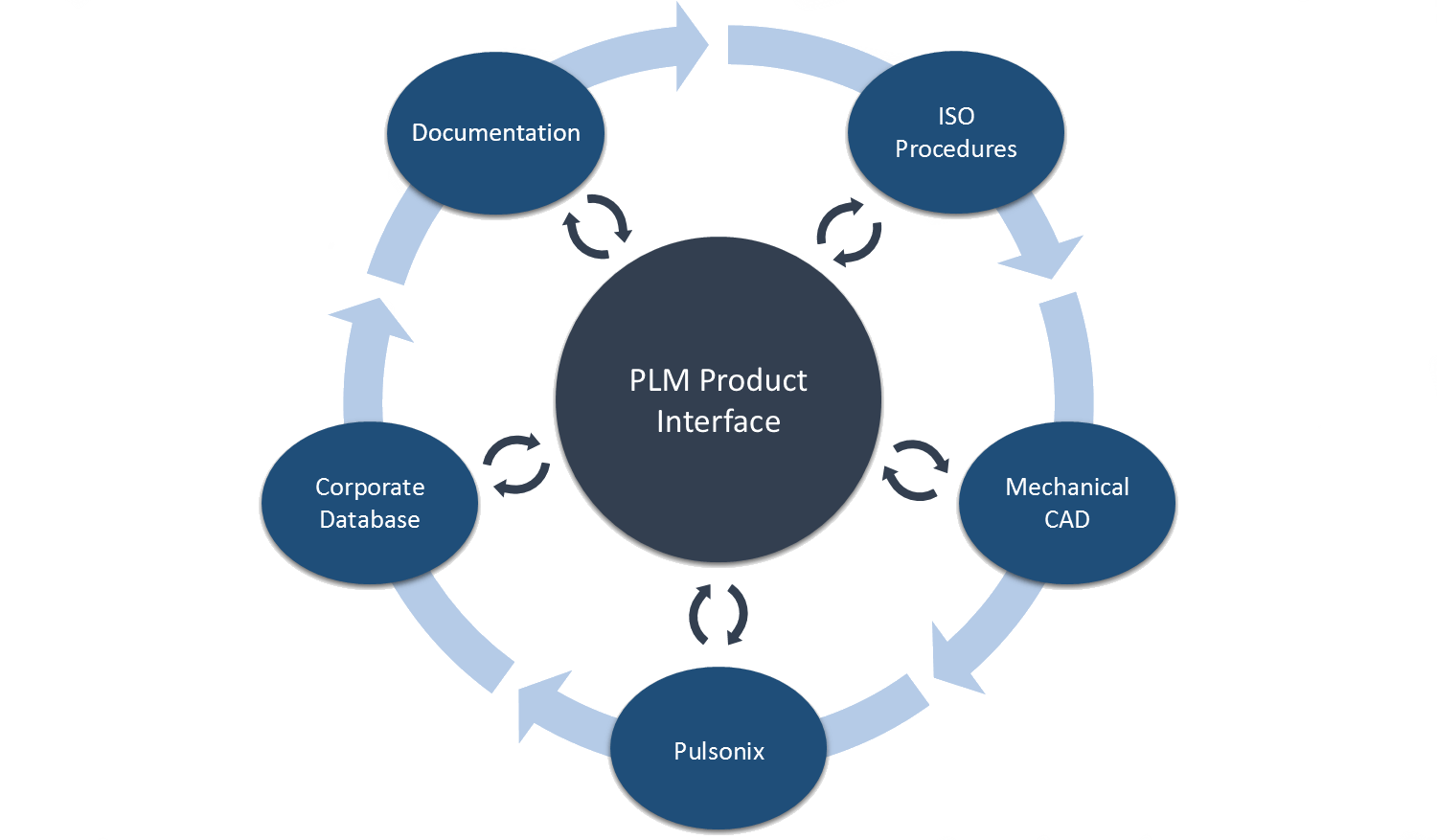 Feature Summary
The list below is a snapshot of some of the PLM commands available in Pulsonix. For more information about PLM systems supported and the commands within the PLM interface are available, please contact your local Pulsonix service office.
Cost Option for Pulsonix
Tight integration with Pulsonix
PLM interface with Integrate product
Open/Save/Close Designs and Exit program
CAMPlot manufacturing interface
Design Rules Checking links
Process logging of commands to log file
Set and select Variants in design
Set current folder
Select pages of a Schematic
Get and Set Properties
Get and Set Parts
Write Reports using Report Maker format files
Set printer type
Reload and Refresh designs
Write Component instances and attributes
Additional commands can be made available on demand
Discover why thousands of companies around the world choose Pulsonix
"
We had no idea how much work could be reduced, the maintenance process was enhanced and we are now much more productive. Furthermore, the quick, professional and qualified support contributed to get the optimum out of Pulsonix

."



Peter Weinheimer

-

Deutsche Bahn
Contact Us
We have sales channels throughout the world that will be able to help you.
Contact Us