Powerful, Intelligent Solutions.
Powerful layout and design tools to make you more efficient and productive
Schematic Capture
Create clear and concise schematic drawings in this easy-to-use design environment. No tedious menus or commands to navigate with modeless operation and an intuitive user interface.
Multi-level Hierarchical Design: Facilitating the re-use of commonly used circuit elements using pre-defined blocks.
Electrical Rules Checking: Electrical rules checking Online as you design and as an interactive batch ensure your design rules are adhered to at all times during the circuit creation.
Instant Cross Probe: Cross probe bi-directionally between your Schematic and PCB designs to ensure design accuracy and correctness.
All Schematic Capture Features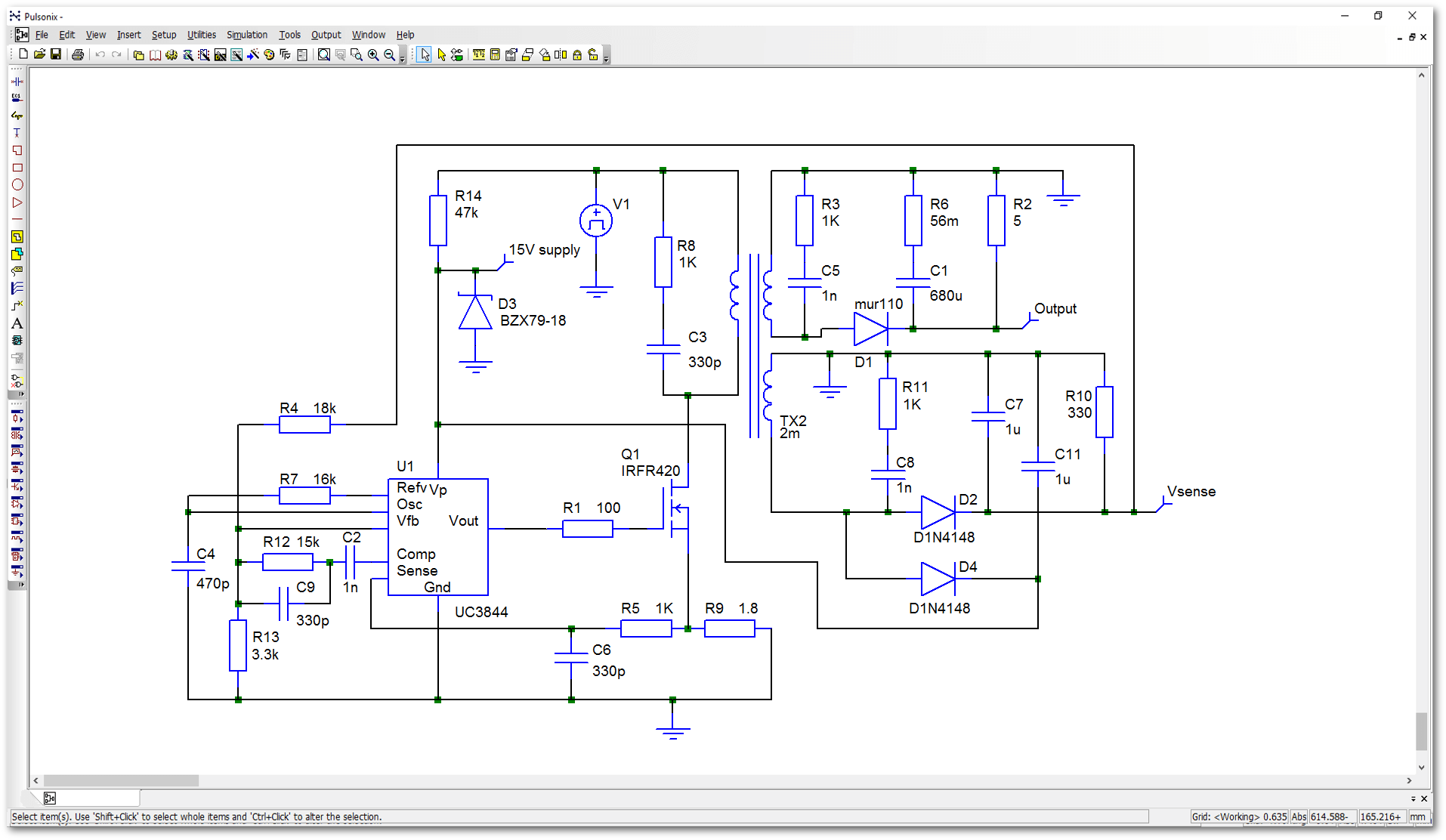 Integrated Spice Simulation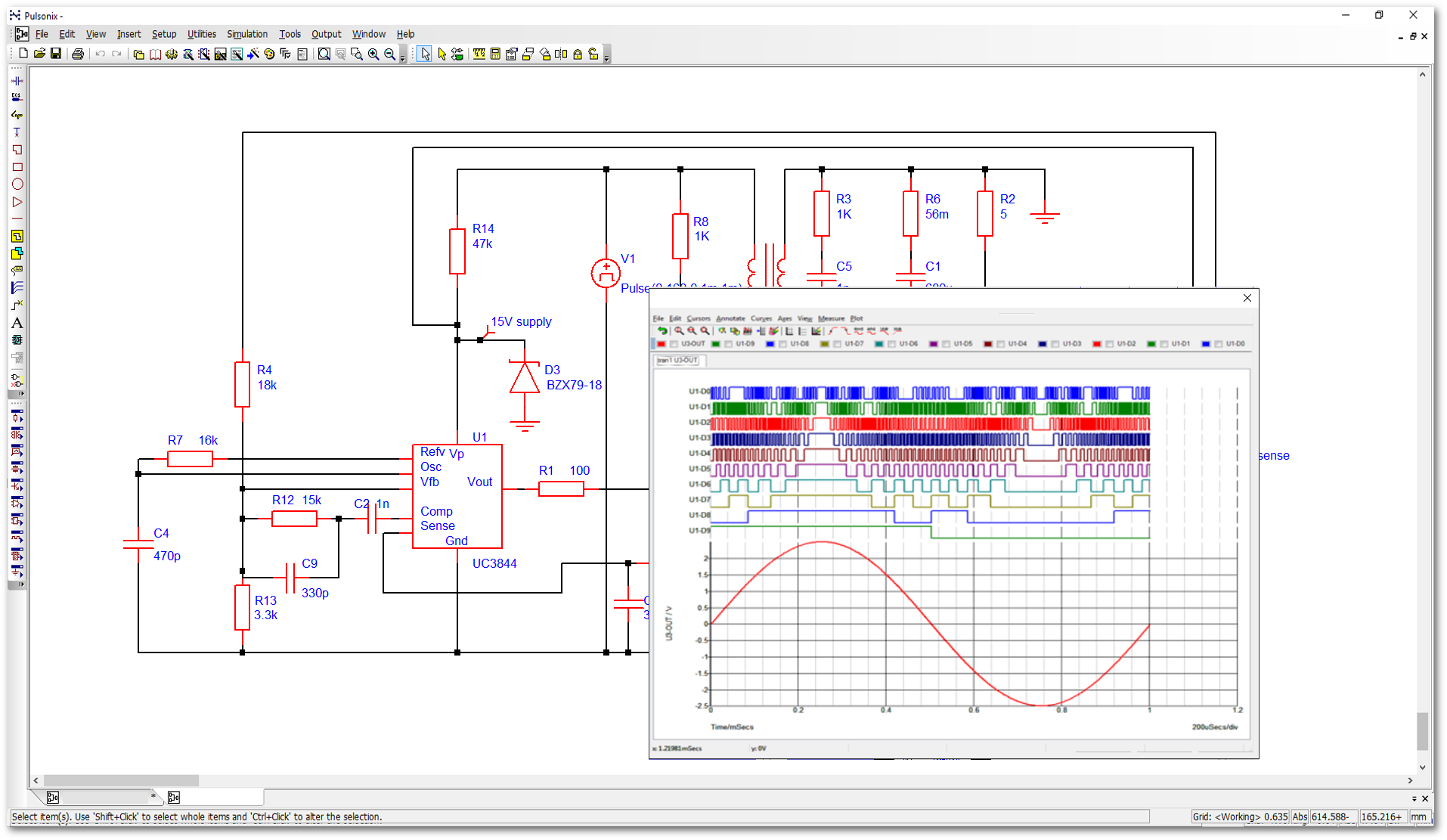 Fully integrated into the Pulsonix design environment, Pulsonix Spice is an advanced, mixed-mode simulation package that out-performs many of the other Spice tools on the market.
Advanced Waveform Analysis: A comprehensive selection of analysis functions may be applied to plotted data. At the click of a mouse the RMS, rise and fall time, -3dB point or many other functions can be calculated and displayed alongside the graph legend.
Random Probing: Pulsonix Spice includes post simulation random-probing. Following successful simulation, graphs of circuit voltages, currents and device powers can be created simply by clicking on a point on the schematic with the probe.
All Spice Simulation Features

PCB Layout
The Pulsonix PCB Design environment has been carefully designed to ensure maximum productivity from minimal engineer input time.
A wide range of features from Rule Creation, Component placement, Routing modes and post processing capability allow for a critical reduction in your design time.
Import Filters: the industry's largest import filters allowing you to retain your Intellectual Property for both Designs and Libraries.
Design Variants: complete assembly variants for your design requirements.
Push aside Routing: interactive push aside routing allows for easy routing on dense board layouts.
All PCB Design Features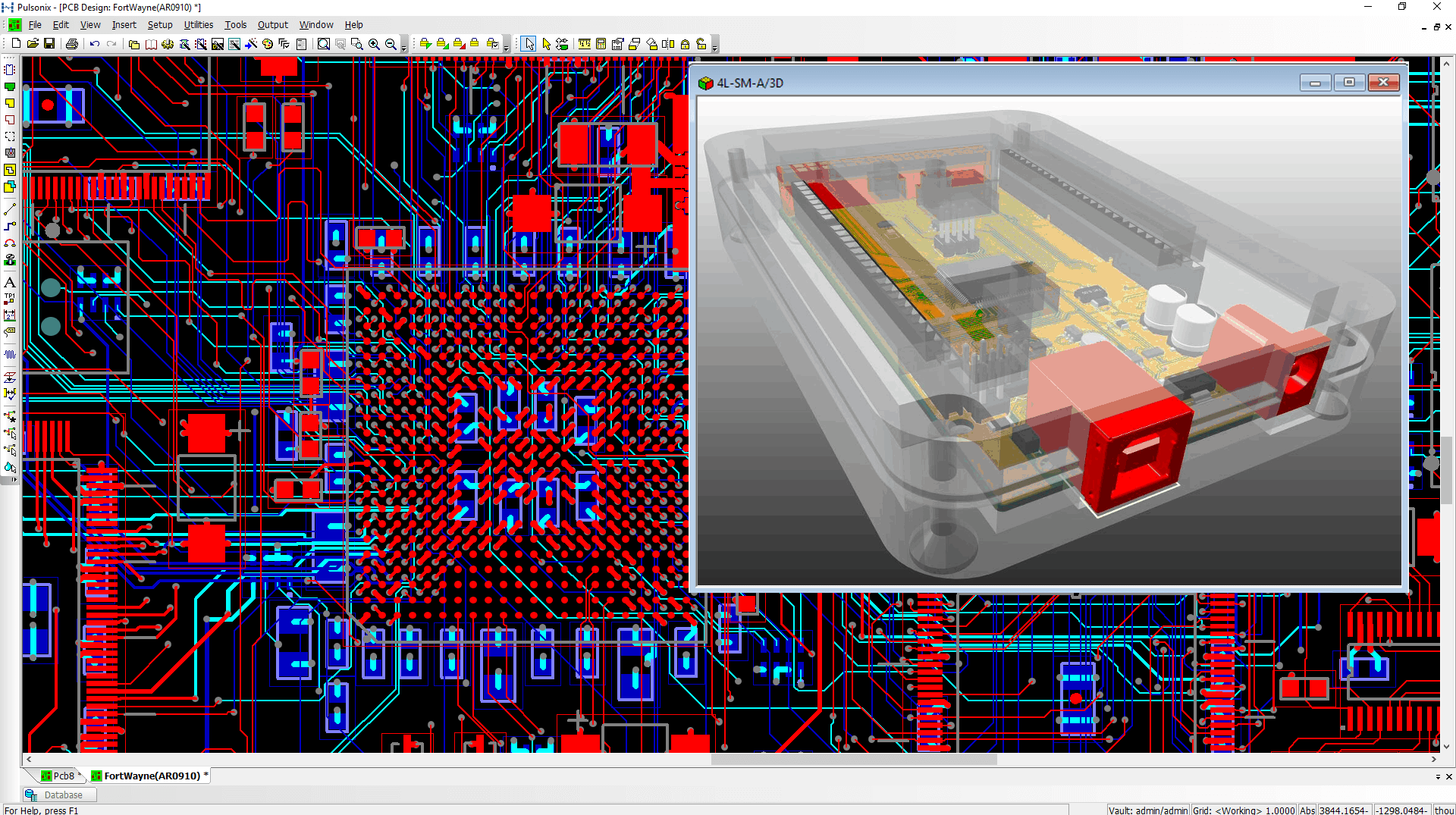 High-Speed Design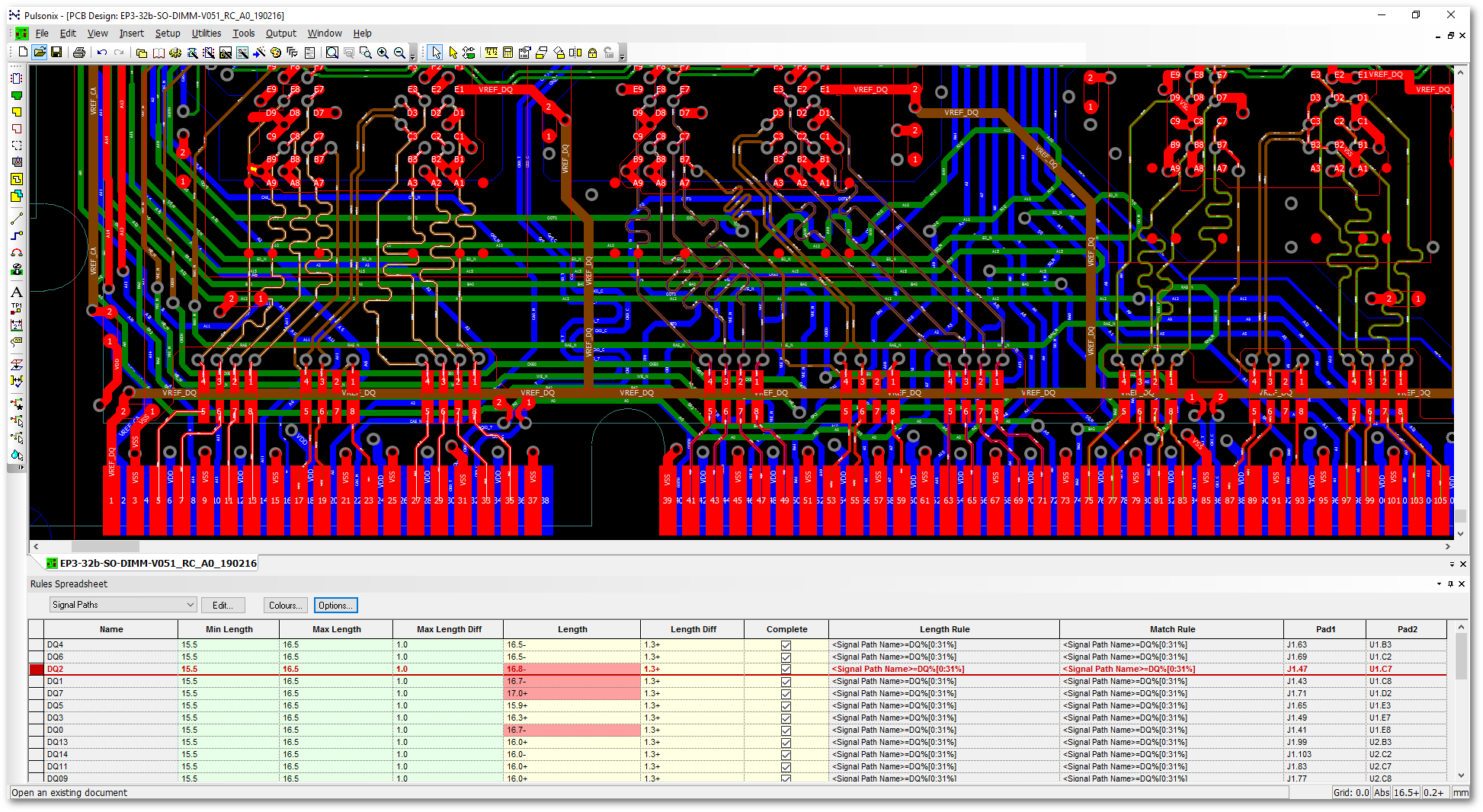 Pulsonix supports a powerful set of constraint driven, rules based, interactive High-Speed design features. With the High-Speed features being driven from the Schematic, the design can be conceived and defined by the engineer during the early logical capture phase. All constraint rules are passed to the PCB design automatically.
Constraint Driven Design Rules: Define critical High-Speed Design rules which must be obeyed in the layout stage.
Signal Paths: Signal Paths enable you to create specific paths that require special consideration within the design, essential for DDR, USB and PCI Express designs.
Serpentine Routing: interactive addition of lengths to traces using the design rules defined.
All High-Speed Design Features

Advanced Technology
Pulsonix provides advanced technology features for your modern design requirements.
Flexi-Rigid Design: True Flexi-Rigid support through multi-spanned Layer Areas, Board Outlines, Board Cutouts and Layer Spanned components allow you to achieve your advanced design requirements with ease.
Support for burried Components: support for burried physical components on into cavities within layer substrate of the board.
Chip-On-Board Support: allows for creation and annotation of die & bond pads and bond wires automatically and interactively within the design.
True manufacturing outputs for your advanced technology usage: critical checking, reporting and manufacturing outputs for designs using specialist technology.
All Advanced Technology Features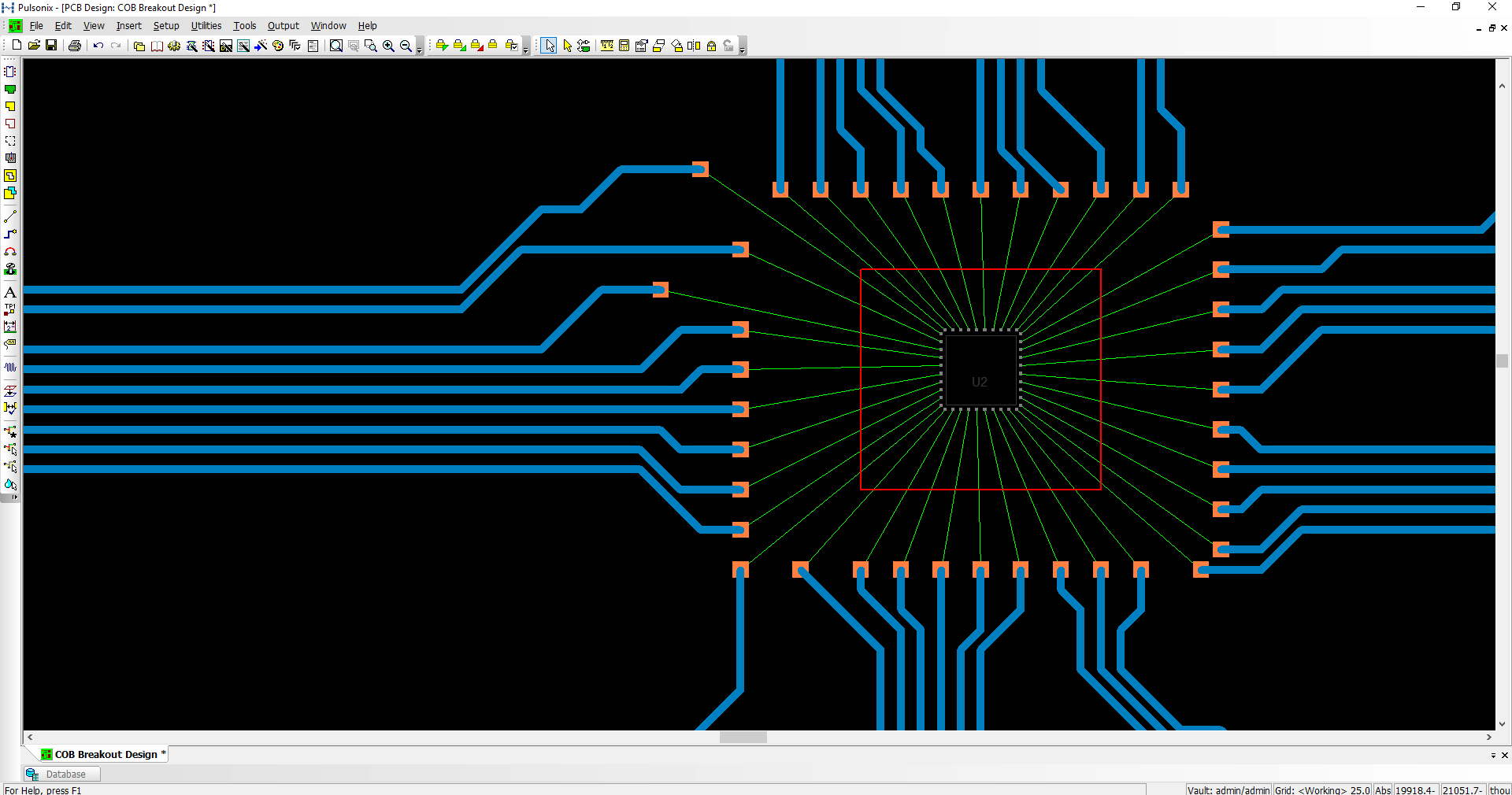 Pulsonix Vault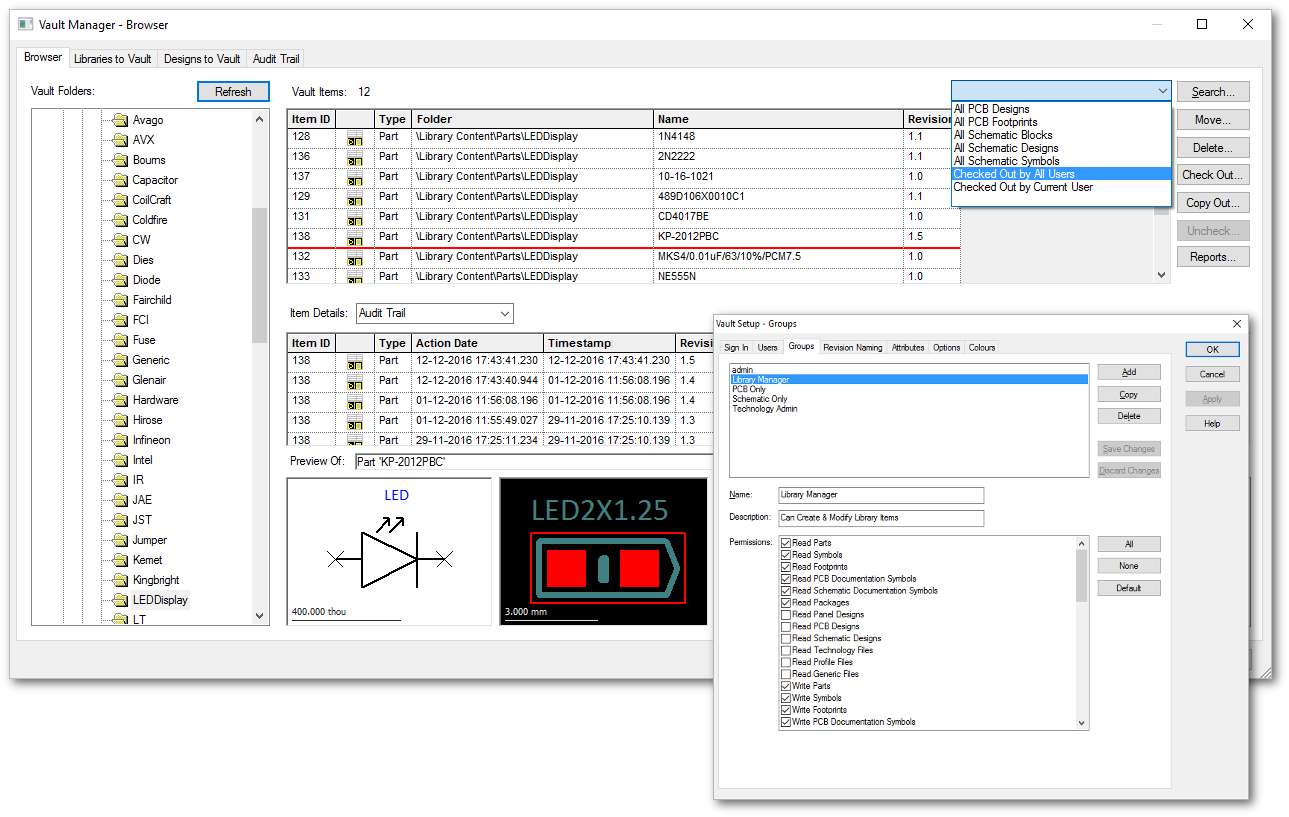 The Pulsonix Vault enables true revision and access controls over your Schematic Designs, Hierarchical Blocks, PCB Designs, Panels, Technology Files and Pulsonix Libraries.
This allows you to use known and verified data in a controlled manner, ensuring accuracy and reducing time to market by not needing to verify items each and every time you use them in your designs.
By its nature, the Pulsonix Vault leads to collaborative working by ensuring no two users can be accessing and amending the same data at the same time.
All Pulsonix Vault Features

Database Connection
The Pulsonix Data Connection ("PDC") enables instant access to corporate information systems for rapid identification and selection of components.
This enables you to carry out database-driven part selection and management inside the Pulsonix design environment where you need the information exactly where you need it.
All Database Connection Features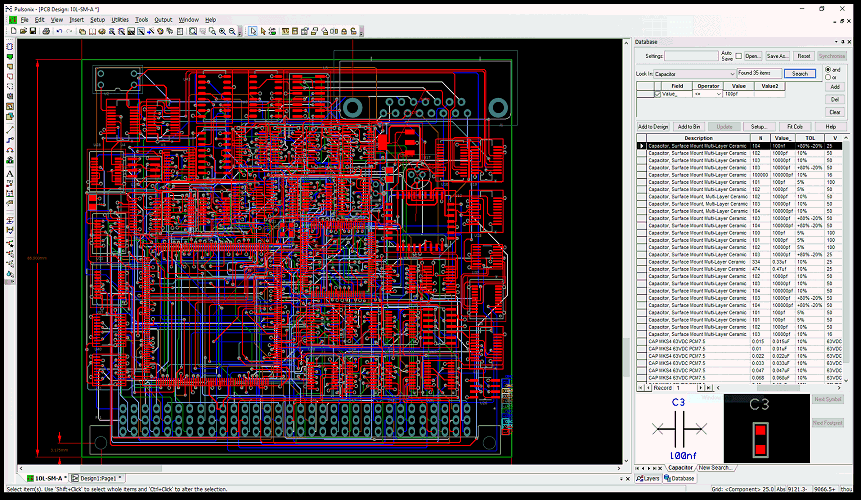 PLM Connection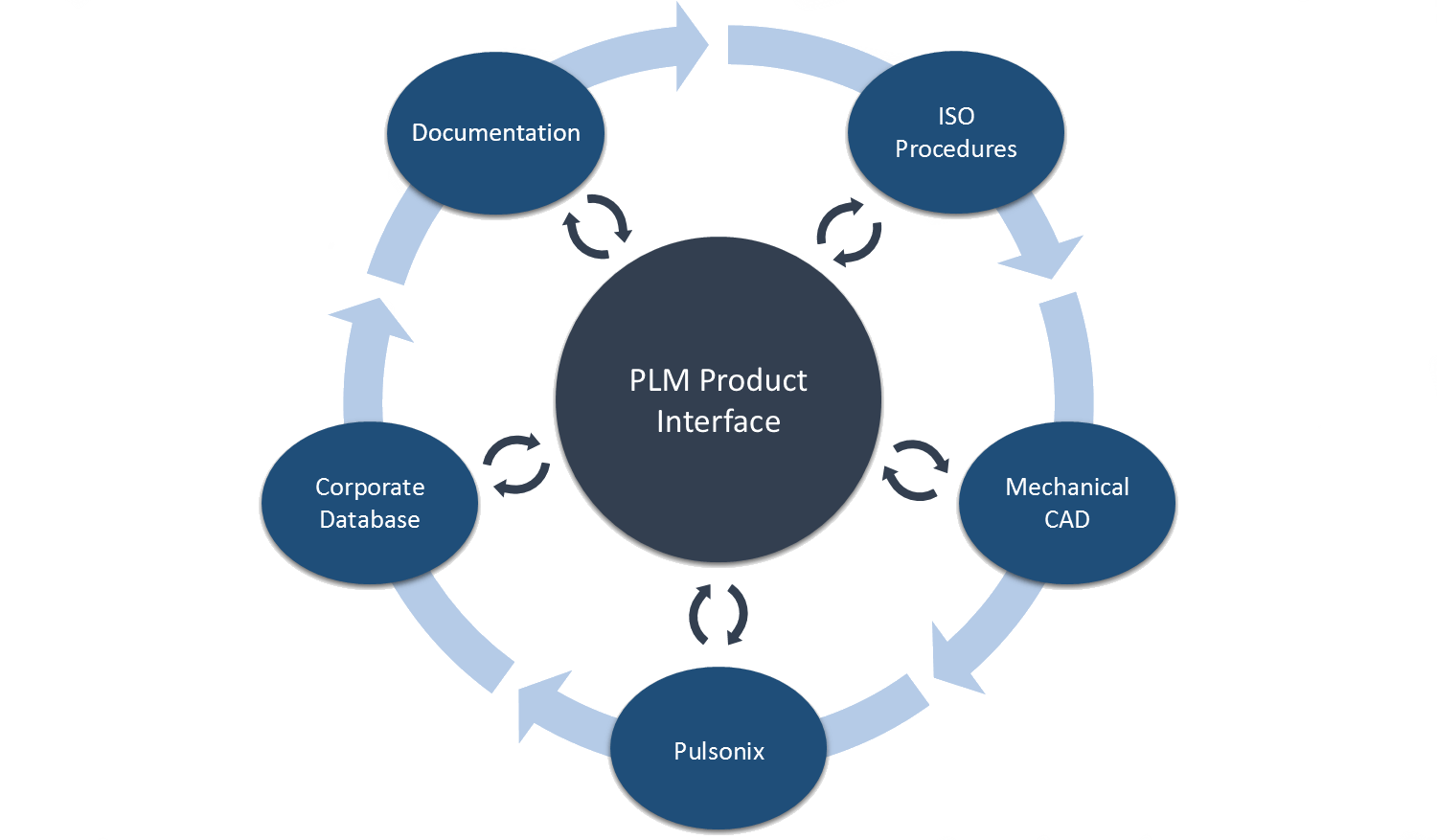 The PLM product interface (or a middle-tier application between the PLM system and the various individual tools) allows access to documents and other design data in a controlled manner, so that all actions fit with the design flow defined by the PLM system. Each process or product requires its own PLM interface to enable the PLM tool's 'hooks' to access information within it.
All PLM Connection Features

Data Migration
The largest array of Import Filters of any EDA product, import Designs and Libraries from your current system into Pulsonix and retain your Intellectual Property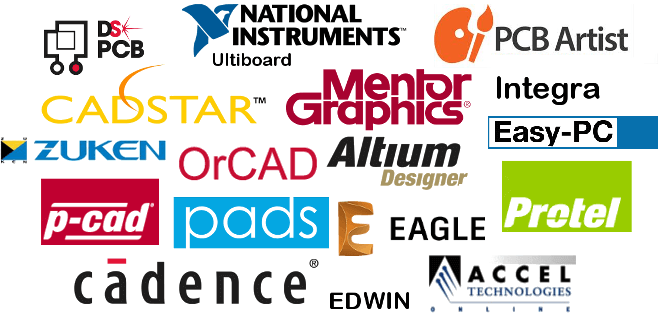 Discover why thousands of companies around the world choose Pulsonix
"
We estimate that Pulsonix system has improved our efficiency in the electronic design department over the original Mentor system by approximately 50%

."



Patrick Clayton

-

Eschmann Equipment
Contact Us
We have distribution channels throughout the world that will be able to help you with your questions.
Contact Us